by Seattle Newborn Photographer Erin Schedler
Many clients opt for in-home newborn sessions, because home is most comfortable and who are we kidding, getting a baby out of the house in those first few weeks is a lot of work! I'm happy to come to you, and travel within the Greater Seattle area (Issaquah, Bellevue, North Bend, Burien, etc.)
SESSION LENGTH
Sessions are about an hour, but can go to 90 minutes if baby needs to eat a few times. Totally fine! Baby's care comes first, photos second. We break when needed for feedings, diaper changes, and cuddles. Life doesn't stop just because we're taking pictures! I've been photographing babies and kiddos for 20 years and move at the speed of 2 year old. I shoot expeditiously, but shoot a lot, and switch up backgrounds steadily to get you lots of variety. I find an hour-ish is a manageable time frame. Enough to get you a big gallery (100+ images), but not so long that you're utterly exhausted at the end.

AREAS I USE FOR PHOTOS
First point, the house DOES NOT NEED TO BE TOTALLY CLEAN, nor do I use every corner of it. As a mama, I know how overwhelming it is just to get yourself and a newborn baby ready. I want to walk in on your session day and see a mess, because it means you chose to take care of yourself and baby, and forget the stress of perfect perfect. Below are the common areas I use for photos. If you want to tidy those a bit, and those only, that works!
• Bedroom with the biggest window (doesn't have to be the Master). Bonus points for white bedding and neutral colored walls! Both act like a big reflector, and neutrals compliment skin tones.
• Living room couch, or kitchen. I've been using kitchens more lately! Fun to get the casual at-home vibe.
• The biggest window in the house. Sometimes this is a living area, a hallway, or a back-bedroom. I just need that little corner, a very little space, to get lots of fun snuggly photos. See examples below!
• Nursery, but not required! Seattle housing is often very limited, and not all kiddos have their own space. MANY families just have a bassinet near their bed, and changing table somewhere else in their home. If you do have a nursery, I'll make sure to capture all the little details — crib, books, keepsakes, and the space as a whole.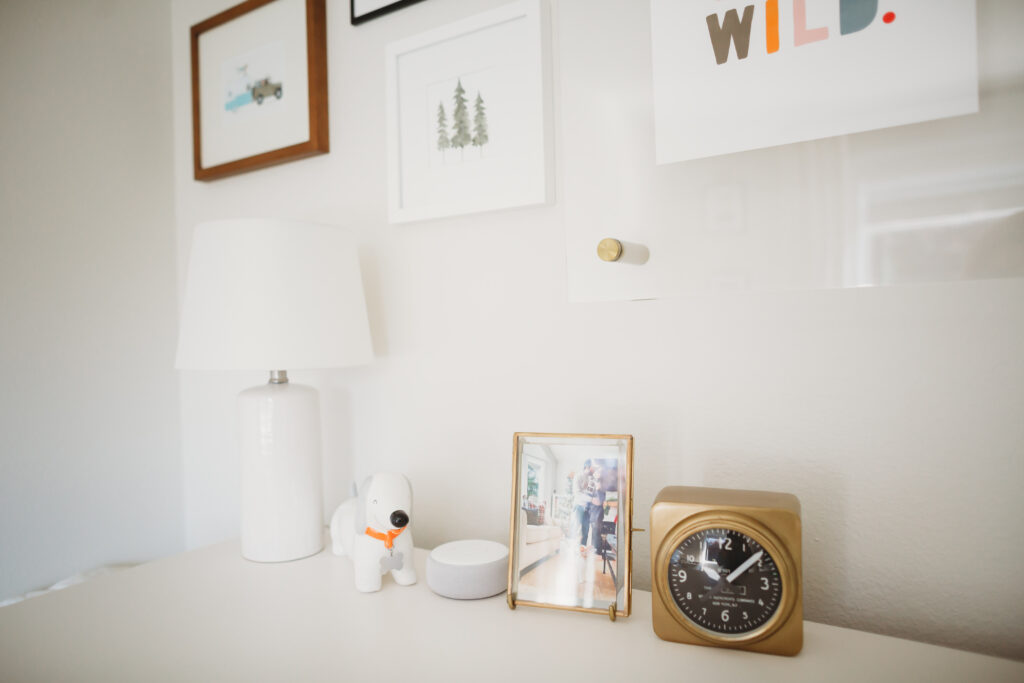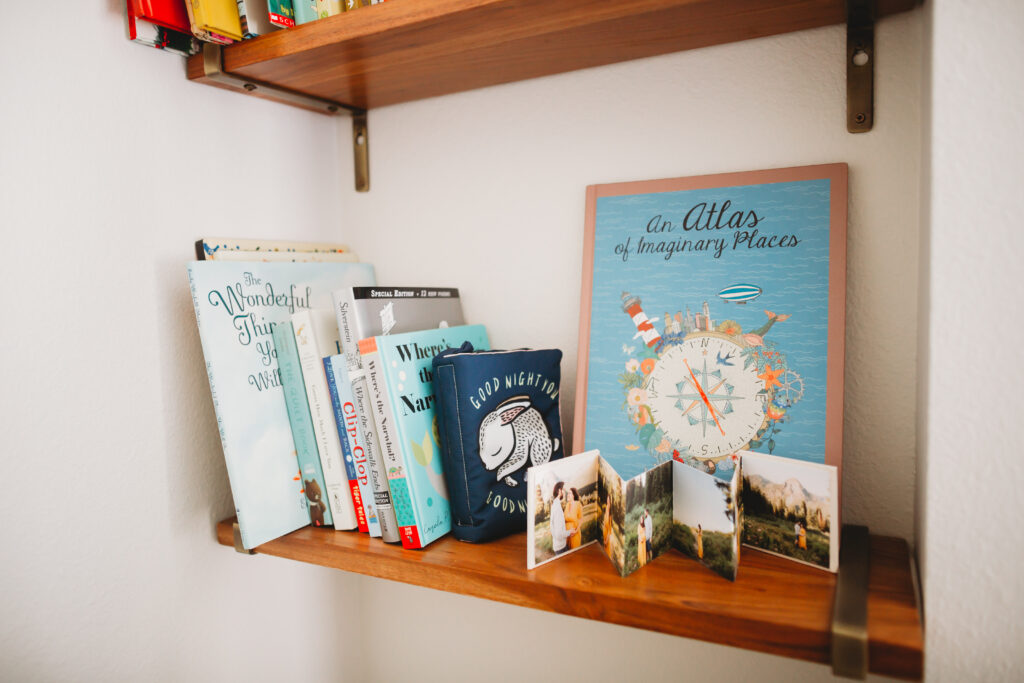 TYPICAL NEWBORN SESSION SHOT LIST
These are the shots you can expect me to get. I don't care about the order! We go with the flow. If baby is happy when I get there, we start with their individual portrait. If baby needs more snuggles, we start with family shots. Baby is the boss! At the end of the season, I verbally check off the list with you and ask if there's anything else you would like. I like double-checking we got it all, before I leave.
• Individual of baby (usually naked with diaper, swaddled, and 1 outfit…I like variety)
• Baby with each parent
• Family photo (at least 2 poses)
• Baby with siblings (if applicable)
• Sibling portrait (if applicable)
• Details of nursery
• Baby toes!
• Grandparents (if applicable)
• Nursing/breastfeeding shots if you want. I find mamas are very black or white about this shot, they either really want it or really don't! Up to you.
• Lots of candids, as well as classic look-at-the-camera shots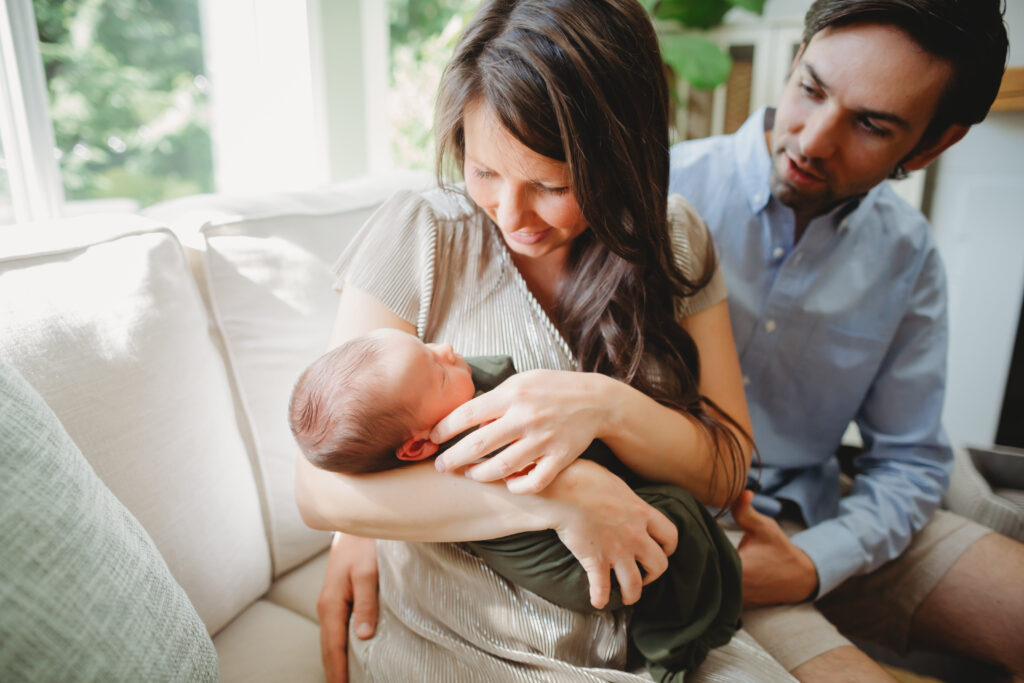 ADDRESSING POST-PARTUM BODIES
Again, I'm a mom. I swear, through pregnancy, delivery, and that first year postpartum, I had 12 different bodies! My body image was all over the place. Taking photos was hard sometimes. I'm very sensitive to this body-altering experience for new mamas, and will do everything in my power to choose flattering angles, poses, and put you in the yummiest light to make you look your best for your pictures. Shooting slightly above will address any double chins. Holding baby across your midsection will block the tummy (if you're self-conscious about this area). I use a reflector to bounce more light into your face and fill in any sleep-deprived eyes. My post-production edits will smooth and warm skin.
I also show you the back of my camera as we shoot, so you can see what we're getting BEFORE I leave. Moms usually sigh a breath of relief when they've seen a handful of shots they love. Sometimes they'll see a shot, decide they want to adjust their pose or hair, we try again and then they LOVE the new round. I'm there to make you happy!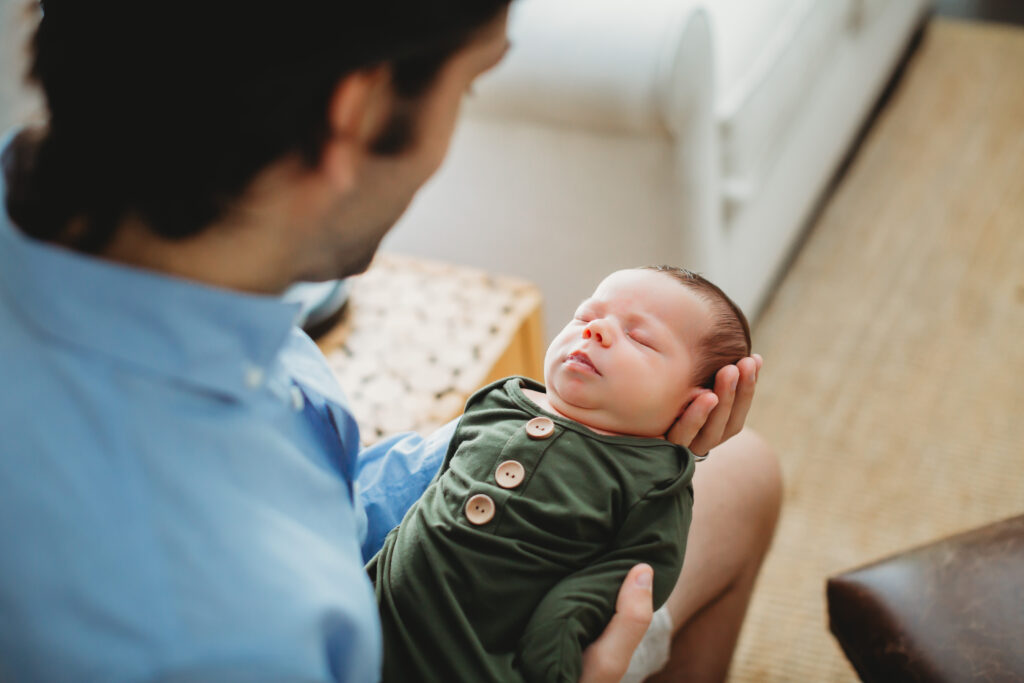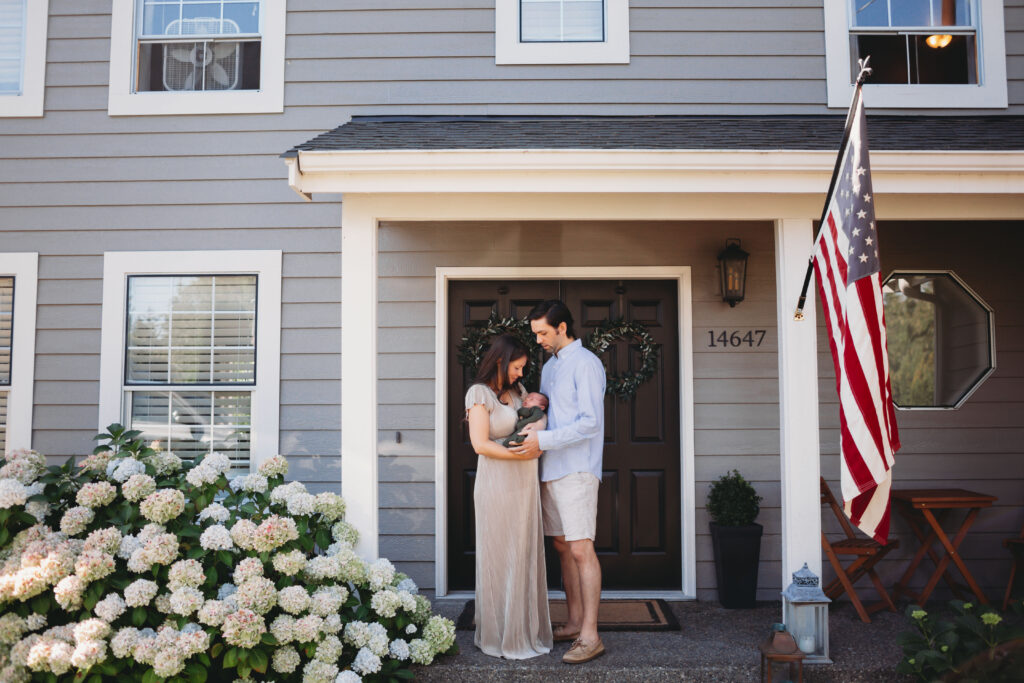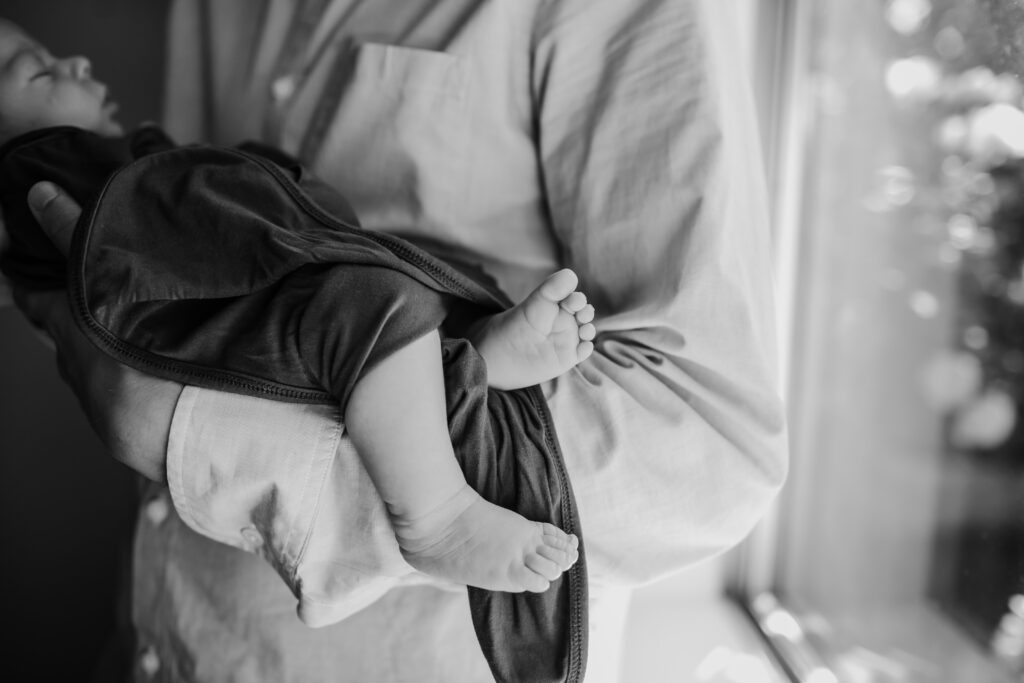 WHAT TO WEAR
I ADORE neutrals. Think white, grey, cream. This palette is soft and bright with new baby, and so very flattering on skin. Bright colors, reds, bright oranges are often too harsh for pictures. Same with red walls (which is why I choose rooms with neutral colored paint). If you need help with styling, see my Pinterest album for inspiration, and/or send me pictures ahead of time! I can help style outfits with you, via text.
For baby's outfit, I prefer naked baby in diaper, some basic swaddles (solids, simple patterns or stripes) and yes and outfit if you like. Collars look odd on new babies (no neck showing yet!). I recommend a simple onesie, or pants and coordinating sweater.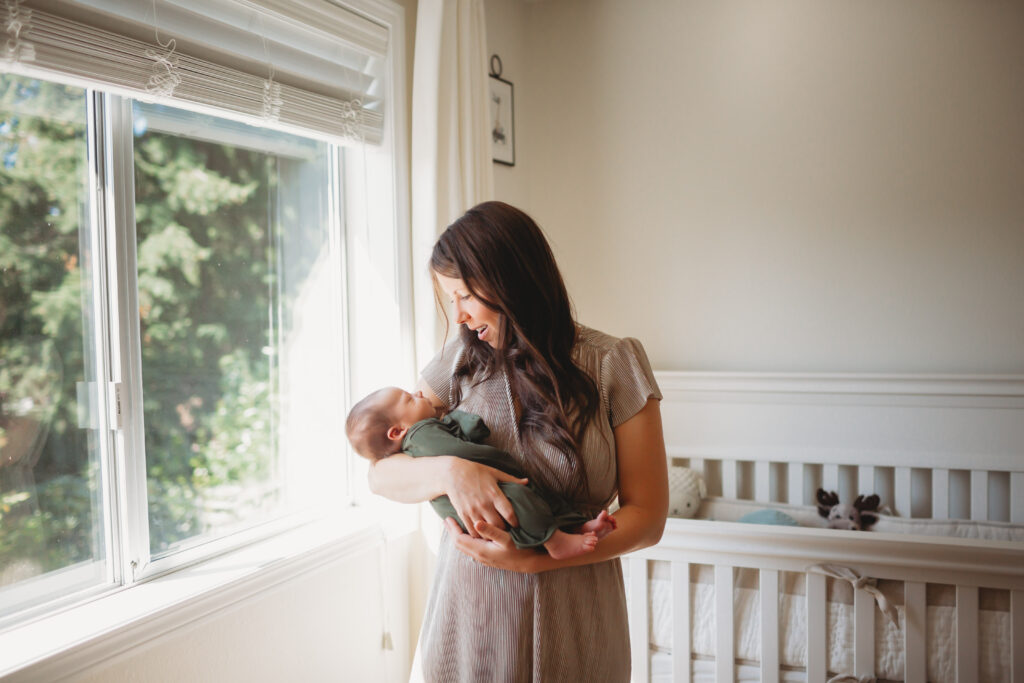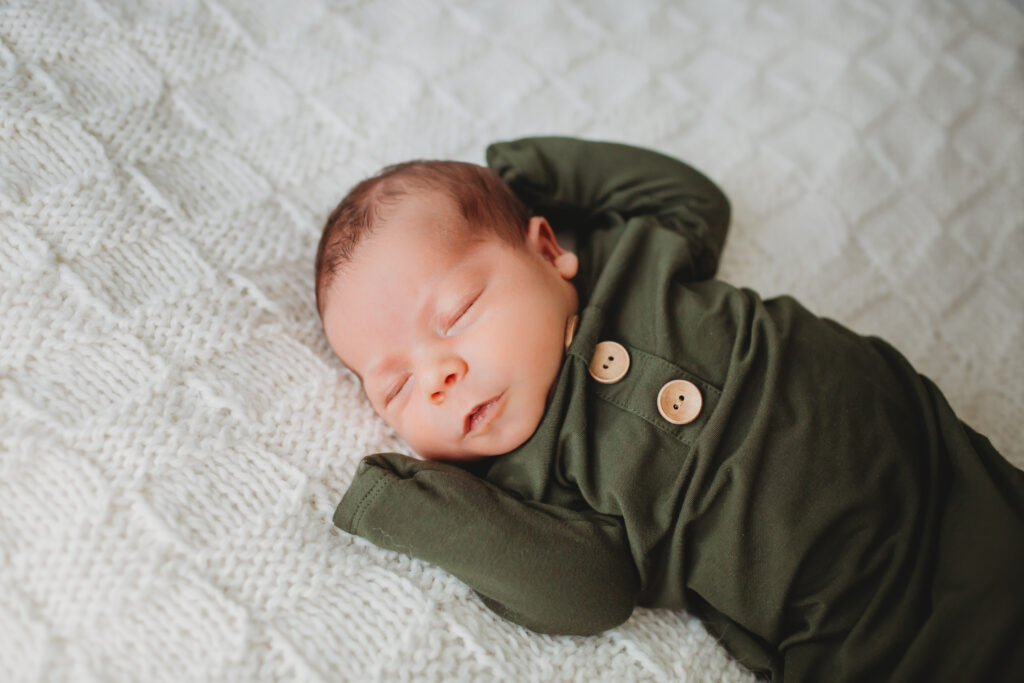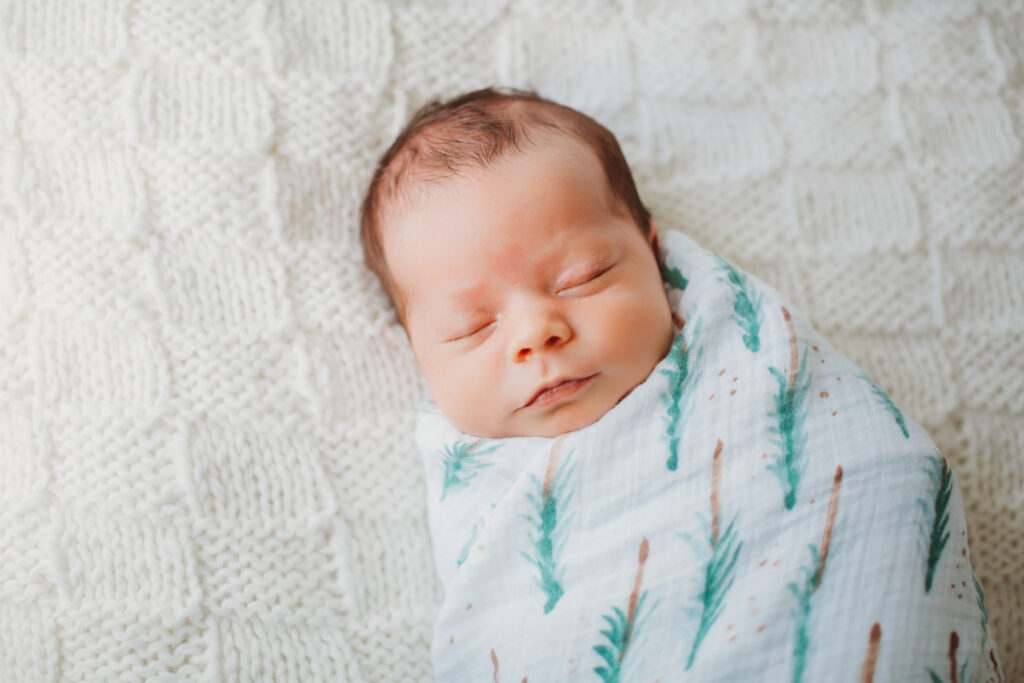 CONCERNS ABOUT THE HOUSE BEING TOO DARK
Worried your house is too dark? This is why I have a studio! It's in downtown Seattle, just a block from the stadiums. The space is big, light, bright and has everything we need for baby (bed for pictures, and diaper changes; comfy couch for feedings; sink for any messes). Guaranteed to be newborn-photo gorgeous. See more information on my studio page.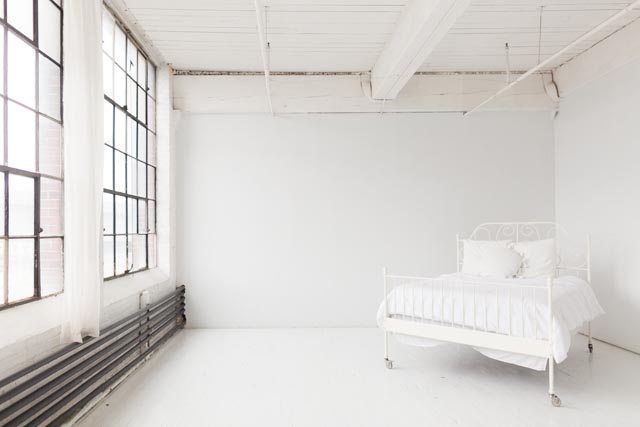 DELIVERABLES
At-home sessions receive a gallery with 100+ images, with all the hi res digital downloads. Session also includes 3 keepsake mini books, that can be put on display in your nursery, or gifted to adoring grandparents! Prints are available for order direct through your gallery. My professional lab fulfills. I HIGHLY recommend going through the lab for any permanent framed prints for your home. The color matches perfectly, and the quality is unsurpassed. A print from a big box retailer will very much skew the professional colors and edits, the professional photos, you invested time and money into.
PACKAGES AND HOW TO BOOK
I offer a number of packages depending on what fits your needs best.
• Belly to Baby – full newborn session plus 1 petite session (maternity or baby milestone, you pick)
• Baby's First year – full newborn session plus 2 petite sessions (maternity and milestone, or 2 baby milestones, you pick)
• Newborn Special – a petite newborn session and 2 petite sessions (maternity and milestone, or 2 baby milestones, you pick)
Or book a a newborn session individually! Whatever you like. Package details on this page. Online booking link button below.
---
---
You might also like